PROCESS SERVING – EXTENT OF SERVICE
Service delivery time is dependent on where the document is to be served and if we can serve it on the first attempt. Non-business visits are normally made outside business hours. We specialize in urgent work and can complete service same day if required (within reason). Neighbors are spoken to where practicable if we are having difficulty with service. Normally we would continue visiting an address until a result was accomplished – this could be multiple visits. CALL FOR OUR AFFORDABLE PRICES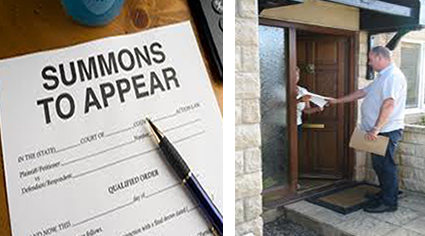 WE SERVE MELBOURNE, COUNTRY AND ALL RELEVANT COURT DOCUMENTS SUCH AS:
Family Law
Divorce Papers
Final Orders etc
County / Federal Court
Debts Owing
Oral Examinations Attendances
Supreme Court
Civil Court
Subpoenas
Magistrates Court
Complaints
Bankruptcy Notices
3 Steps
1. Please send a cover letter addressed to Shadowgate Inquiry Services instructing us to process serve your documents on your behalf, & our agent will pick them up from you. Please ensure your letter clearly outlines the name of the defendant/respondent or other party being served, the address the process server will be attending & any additional information including the defendant/respondents employment or alternative address & contact telephone numbers. Your letter must also include your full name, address, email address & contact telephone numbers.
2. A photograph of the defendant/respondent if available that may be filed at the court. This is important in family law matters as the photograph may be annexed to the affidavit of service. It is also important to include a photograph for the process server to identify the defendant/respondent if it is believed that they may attempt to deny his/her identity in order to avoid being served by our process server.
3. Payment-unless you have an ongoing account with Shadowgate Inquiry Services, affidavits of service attempts shall only be released to you once full payment has cleared our account, via Bpay (Please quote reference number that is on our response letter).